What is Technical SEO? - GeeksforGeeks
Mai 18, às 14:05
·
6 min de leitura
·
0 leituras
A Computer Science portal for geeks. It contains well written, well thought and well explained computer science and programming articles, quizzes and practice/competitive programming/company interview Questions.
Search engine optimization (SEO) is most certainly something you know. It's typical to practice for contemporary e-commerce platforms to use keywords to grab the interest of web search bots like Google. To improve e-commerce SEO methods, technical SEO digs deeper into the server and code. It enhances SEO by optimizing a site's technical features, like page load times.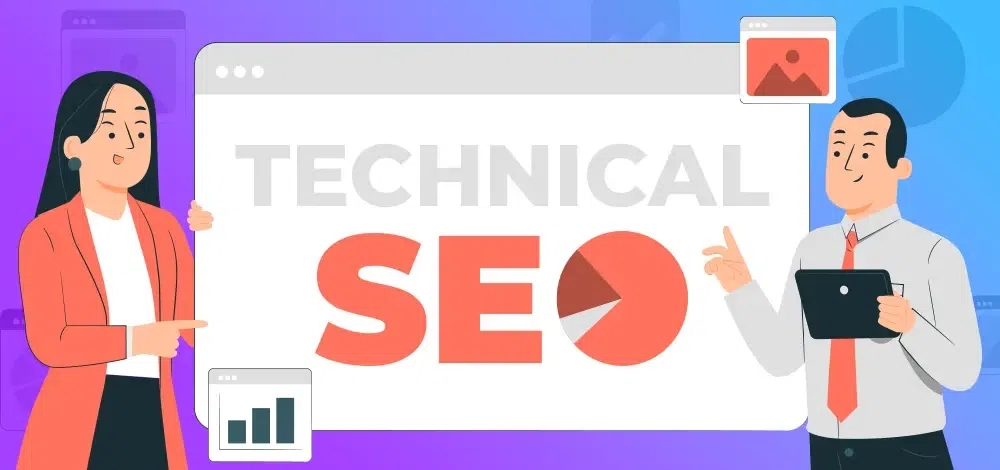 For SEO to be successful, technical SEO is crucial. If you're experiencing technical SEO issues, likely, your SEO strategies won't yield the desired outcomes. So, you must comprehend technical SEO and know how to do it correctly. Thus in this post, we'll provide you with a detailed explanation of technical SEO.
What Exactly is Technical SEO?
Technical SEO is a method developed to assist search engines to understand and categorize the many sections of your site, which then ultimately assists those pages to improve their ranks. In other words, the goal of technical SEO is to raise a website's functional standing so that search engines will rank its pages higher
Increasing page load times, making websites easier for search results to crawl, and giving search engine algorithms sufficient data about your website to properly categorize it are the three primary components of having a strong technical SEO strategy for a website. A part of technical SEO is on-page optimization. As a result, it primarily concentrates on enhancing various aspects of your website that can enhance its reputation with search engines.
What is the Importance of Technical SEO for Your Website?
Even if you build a website with the highest caliber content, poor technical SEO will prevent it from ranking. The proper search queries must be indexed on your pages by search engine algorithms that can identify them, crawl them, and comprehend the material.
Technical SEO is crucial since it improves how well search engines comprehend and index a webpage. As a result, the website might rank more highly in search results and get more traffic.
Technical SEO entails improving factors like the website's design, URLs, and tags and ensuring the site is responsive for mobile devices and loads quickly. It's also crucial to check that the website is safe and accessible both to search engines and people with impairments. A website's user experience and search engine performance can be enhanced by fixing technical issues.
What Exactly is the Technical SEO Checklist?
Crawlability is the foundation of your technical SEO approach. To learn more about your website, google bots will crawl your pages.
If such bots are stopped from crawling for any reason, they cannot index or rank your website. Always ensuring that all of your key pages are reachable and simple to navigate is the first step in adopting technical SEO.
To make sure that your pages are ready for crawling, we'll cover some items to include on your checklist as well as certain website components to examine below.
1. Permalinks or URLs
Your website has a unique, simple-to-remember URL for each page. Your URL should not contain any special characters and should be as brief as possible, containing no more than five words. Your emphasis keyword should also be present in your URL to keep your content coherent for readers as they read or browse through it.
It's possible that doing so will just slightly affect where you appear on the search engine results page (SERP). Despite this, it is worthwhile to make the effort because doing so will make it easy for users and search engines to read and remember your URL.
2. Loading Time For a Page
The technical SEO list of requirements is impossible to comprehend without this component. If you have to endure an extended wait to see what the page is about, it is quite annoying. That not only wastes your time but also gives the website a less-than-stellar appearance. As a result, website speed has emerged as one of the most crucial elements in both online design and SEO ranking.
The amount of time it takes for all the material on a webpage to fully load is used to judge how quickly a website loads. Customers are less satisfied and leave your site when a website is slow since they must wait longer for pages to load. Sites with quick page loads are even being rewarded by Google in search results and rank the website higher in search results.
3. Mobile-Friendly Webpage
Google stated that it would start indexing websites with mobile devices in mind. This indicates that the search engine evaluates a web page's responsiveness from the standpoint of a mobile device, such as a smartphone or tablet. You may always examine your Google Search Console statistics to see how you rank in this category. Do not forget that the material on your mobile site should be identical to what's on your desktop site. Another crucial aspect of optimization is getting rid of bothersome pop-ups.
3. Enhanced XML sitemap
An XML sitemap contains helpful details regarding your website, such as the most recent updates to a page's content and its relative importance to other pages on your website. An XML sitemap, as the name implies, outlines your website for a web crawler and instructs it on how to browse it. Even if you can use a sitemap generator to make one for your website, it's crucial to submit your XML sitemap to Google Search Console for it to correctly crawl and index your website.
4. Robots.txt
The robots.txt file, which is included on the majority of websites, serves as guidance for web crawlers on how to access the site. For example, they may instruct crawlers to explore every available region or just a few selected ones.
When it comes to SEO, you need to be careful that your robots.txt file isn't preventing crawlers from indexing information that you don't want to have banned. Your material won't be indexed and, consequently, won't appear in search results if Google is unable to crawl it.
5. Inline Styles
It's critical to understand how employing inline styles CSS affects a website's SEO. It's generally not advised to use inline style sheets for big sites or eCommerce sites because they are built by adding style rules straight into the HTML code of a web page.
Due to its potential to negatively affect the speed at which pages load, inline styles are a more antiquated coding technique that is now deprecated in favor of CSS style sheets. Also, there is proof that improper usage of inline styling might make HTML code needlessly complex, which would make the website or blog post take longer to load.
Conclusion
A crucial component of any digital advertising plan is creating a technical SEO checklist. So every business or brand owner should spend valuable time perfecting the technical SEO of their website since the rewards far surpass any early challenges they may have in comprehending the principles and using the tactics. Yet, if done correctly, you don't have to worry about it unless you wish to routinely audit your website.
---